Board Options
---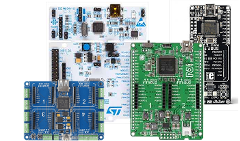 Our SCM and UCM products all support TinyCLR OS. TinyCLR can be ported to other devices, and we provide a ready port for a few popular boards. For information about some of the third party boards we support, please follow the links below.
Note
We do not support, test, or guarantee TinyCLR's operation on devices from other manufactures. We are only sharing the experiences of ourselves and others running TinyCLR on third party boards.
Firmware Update
The firmware needs to be updated to match the assemblies loaded by Visual Studio. If you see an error message about a checksum error then your project's assemblies version does not match the version loaded on the device.
Each board will have details on how to load its firmware.
---
Visit our main website at www.ghielectronics.com and our community forums at forums.ghielectronics.com.